Often I have to answer questions that go like this: "Can I use the TV as a wireless monitor for my laptop or smartphone?" "How to display an image on a TV using a tablet, computer or phone, but not via a cable, but via Wi-Fi?". "How do you get everything on your tablet or smartphone to be displayed on the TV and everything is in the air?"
In this article I will try to answer the questions. We will understand whether it is possible to display an image on a modern TV without a cable, and how to do it using Intel WiDi or Miracast technology.

SSD, Smart TV set-top boxes, video game cards, PC processors, multifunction devices, antiviruses, routers, Wi-Fi amplifiers, smartphones up to 10,000 rubles
Before I get into the main part where I'm going to tell you how you can turn your TV into a wireless monitor, you need to know something:
Air can brake, use the cable
If you want to display the image on a TV screen from your laptop to play games or watch movies, it's best to do so with an HDMI cable. There should be no problems with the computer, because now there is HDMI in every laptop, or there is HDMI on every graphics card, which is not unusual for TVs. How to connect it all, read the article How to connect the TV to a computer (laptop) with a cable HDMI? TV as a monitor.
No wireless technology will ensure the picture quality you get on an HDMI digital cable (at least for now). Yes I want it without cables but when using wireless technology there will be slowdowns but not great. And playing games or watching videos with some lags in the photo is not very pleasant.
To bring video and photos to the TV, you can, without any special technology
In this article, we talk about what would duplicate absolutely everything that happens on the screen of the device on TV.
However, in order to just broadcast Wi-Fi on TV photos or videos from a computer, smartphone or tablet, you do not need any special technology. Virtually every modern TV supports DLNA technology (if there is a Smart TV, it definitely does). Computers and mobile devices can also transmit multimedia content using DLNA technology. Android just knows how iOS does too (if I'm not mistaken) and on Windows Phone, this option will appear after upgrading to version 8.1 (at the time of writing this article, the official update will wait a month longer).
To set up sending photos and videos wirelessly from your computer to your TV, see the instructions below:
Set up DLNA (Smart Share) on LG Smart TV. View movies and photos on your computer
We configure the DLNA server using the "Home Media Server (UPnP, DLNA, HTTP)" program. View files from your computer on your TV
If the first article is suitable only for LG TVs, the second can be called universal.
How to view photos and videos from an Android device, I wrote in a separate article: "We watch photos and videos on TV directly from the phone (tablet). We set up DLNA between the TV and smartphone."
Well, if you still need to completely duplicate the image on your TV screen, and even without wires, read on.
Image on the TV from a laptop or smartphone on Wi-Fi
I have noticed that many people want to run on a tablet, in a browser, watch a movie online and view it on TV, for example. But to be able to broadcast a movie in DLNA, you have to download it first. Not everyone likes it and not everyone knows how to download movies to a tablet or smartphone. If you have a Smart TV, you can watch online movies directly from your TV, and you don't need any additional equipment for that. How to do this, read this article.
There are two main technologies that allow you to completely duplicate everything you see on your laptop or mobile device to your TV via a wireless network. This technologyIntel Wireless Display (Intel WiDi), iMiracast. You have most likely already heard about these technologies or seen them in the settings of your devices.
See also:
We display the image visually from a tablet or phone (Android) to a TV with Miracast technology (without …
We watch photos and videos on TV directly from the phone (tablet). Configure DLNA between …
Configure DLNA on Windows Phone 8.1. Transmission of video, photos and music from Windows Phone to TV
The TV does not display movies on the computer (laptop) after starting the DLNA server
What is the TV's network connection (LAN) for?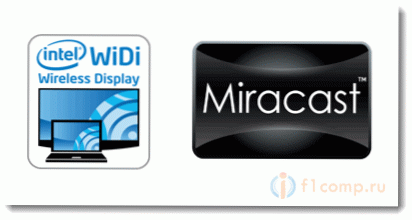 If you explain your work in your own words, everything looks like this: the image displayed on the screen of a computer or mobile device is compressed and sent via Wi-Fi to the TV. All of this happens very quickly and the delays are almost invisible.
It is enough to turn on Miracast or Intel WiDi on the TV (if it supports this technology, if not, then you need a special HDMI adapter) and on a mobile device or on a laptop using a special program, start the broadcast. The devices are connected and the image is sent to the TV. By the way, a Wi-Fi network (router) is not needed at all, the TV itself forms a network that you just need to connect to. Something like Wi-Fi Direct.
At first glance, everything is very simple. But at the moment, not all devices support these wireless technologies. Although I think in a year it will not be a problem anymore.
By the way, Intel WiDi (from version 3.5) is compatible with Miracast. Therefore, the technology of Intel can be considered universal.
How to view an image on a TV using an Android tablet or phone that uses this technology, see this article.
What devices support Intel WiDi and Miracast?
When it comes to computers (laptops), Intel WiDi technology requires a 4th generation Intel processor, Intel graphics and an Intel wireless Wi-Fi adapter. As you already understood, not every laptop can boast of such a configuration. Or you will need a special prefix.
If we are talking about mobile devices, they should also have support for Intel WiDi or Miracast. If you intend to use these technologies, see the characteristics of the devices and check the availability of these technologies before purchasing.
For detailed information on devices that support this technology, you can look at the official website http://www.intel.ua/content/www/ua/uk/architecture-and-technology/intel-wireless-display.html.
Intel WiDi and Miracast on TVs
Thanks to devices that transmit an image through the air, we found that now in relation to televisions that display this image. On TV, either have native support for Intel WiDi / Miracast, or you need to buy a special receiver that can be connected to the HDMI port on the TV.
As I understand it, almost all TV sets from popular manufacturers: LG, Samsung, Toshiba – starting from the line in 2013, who have Smart TV support and have built-in receivers, are able to work with Intel WiDi / Miracast standard.
If the TV does not have built-in support, then, as I already wrote, an external HDMI adapter will help. By the way, it makes the image go even better than through the built-in.
For example, on the LG 32LN575U TV – the cheap model with Smart TV function has Intel WiDi / Miracast support. It looks like: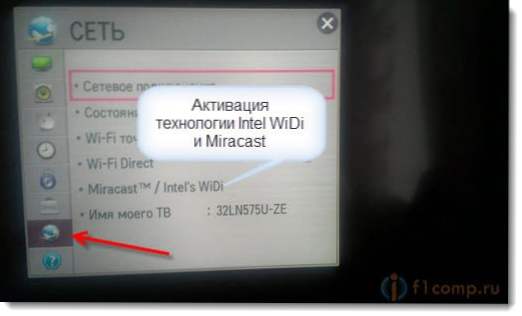 Perhaps, as this will demonstrate the work of this technology, it will be in another article.
Members
Let's summarize. If you want to use your TV as the main or secondary monitor for your computer or mobile device, and there's no need to connect them over the air, it's best to do so with a cable. And cheaper, and the image quality will be better.
Don't forget that thanks to DLNA and Wi-Fi technology you can send photos and videos to your TV. But displaying an image by launching the game, while being a browser or on the desktop, will not work.
If you still want everything that is displayed on the screen of your computer, smartphone or tablet to be displayed on the TV screen, look towards Intel WiDi and Miracast technologies. If your devices do not support these standards, you will have to purchase special consoles and receivers.
If you only plan on purchasing new devices and intend to use these wireless technologies, please check that they support these standards before purchasing.
I recommend that you continue to watch the video on this topic. Overview of Intel WiDi technology from Natasha.
That's all. Regards!