Today there will be a very small article coming out, not even an article, but an answer to a popular question that I often notice in the comments. The question is, is it possible to download files from the Internet to a TV that has the Smart TV function, and of course has the ability to access the Internet.
There were also questions, for example, is it possible to download files via the TV, directly to a USB flash drive or to a hard drive connected to the TV. It seems we are starting to forget what TVs are for …
SSD, Smart TV set-top boxes, video game cards, PC processors, multifunction devices, antiviruses, routers, Wi-Fi amplifiers, smartphones up to 10,000 rubles
So, downloading files from the Internet, directly to the TV, via the TV browser, possibilities no. Moreover, save these files to a USB flash drive or an external hard drive. You can access the Internet (there is already an article on this topic), you can browse the site, you can even try to watch a video through your browser (but most likely you will get an out of memory error), but the ability to download files is not available.
See also:
How to watch online movies (movies, TV shows, movies) on LG Smart TV?
Error: "Not enough memory" on LG Smart TVs when watching movies through the built-in browser
What is the TV's network connection (LAN) for?
Why does the Internet not work on the TV when connected via a network cable (without a router)?
What is needed to connect a TV (Smart TV) to the Internet (using Wi-Fi, LAN)?
You know that I always try to write articles and check everything on a real example. So I cannot test the downloadability of files on all TVs. I checked it on the LG TV (model 32LN575U). I went through the built-in viewer on f1comp.ru and tried to download the file.
I got the message yes file transfer is not supported.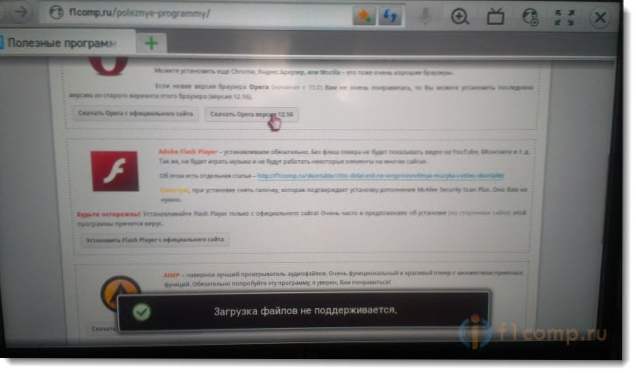 I think Samsung, Sony, Philips, Toshiba etc. TVs will have the same message. If someone has already tried, please feel free to share information in the comments. Perhaps I am wrong.
Most likely the TVs cannot download any files, regardless of the format. Be it music, video or something else.
Well, on the other hand, why is it really possible to download files on the TV? What is the use of this? I think you agree with me. The TVs have built-in memory, but it is designed to install various programs and games, and it seems unwise to download any other files.
If you have information on how this happens when it comes to downloading files on other TVs, non-LG manufacturers then write about it in the comments, or send me a picture, I would add it to make it more useful and informative. Regards!